🙏 Gitcoin grant for OpenGenus
Get FREE domain for 1st year and build your brand new site

OpenGenus received Gitcoin's $1000 grant in ETH in the First ever Gitcoin X Hacktoberfest partnership 2020. We received the award in January 2021. We, OpenGenus, are thankful for the support.
Another achievement and acknowledgement of OpenGenus.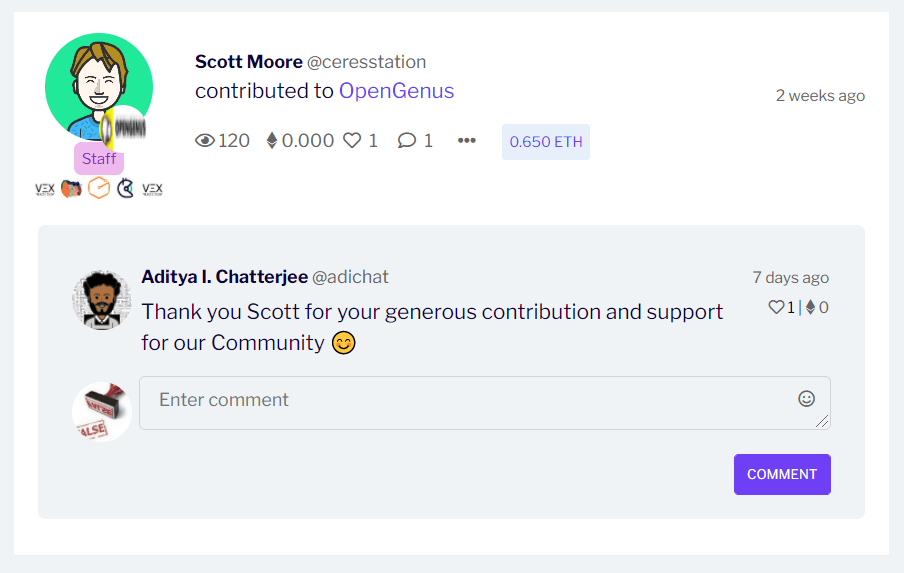 OpenGenus received the First ever Gitcoin Grant
Yes, 0.650 ETH equaled $1000 at the time of the Award.
What is Hacktoberfest 2020 x Gitcoin?
For the first time in 2020, Gitcoin partnered with DigitalOcean to sponsor Hacktoberfest and help open-source communities.
Gitcoin with the help of Ethereum Foundation planned to distribute $1000 in form of ETH/ DAI to top 25 projects that are active in Hacktoberfest. OpenGenus is one of the top 25 open-source projects selected by Gitcoin.
About Gitcoin, OpenGenus and DigitalOcean:
Gitcoin, in short, is a platform that is helping sustain open-source projects financially.
OpenGenus is a contributor-driven open-source scientific community focused on Computing Research and Publishing.
DigitalOcean is a dominant cloud infrastructure provider based in USA. DigitalOcean is one of OpenGenus' earliest sponsors till date and we are grateful for the support.
Thank you from OpenGenus
We would like to thank Richard Littauer, Scott Moore, Justin Dorfman and the entire Gitcoin Team.