Indian Technical Authorship Contest 2023
by OpenGenus, Starts from 3rd July 2023.
ITAC 2023
---
ITAC is a Technical Authorship Contest for Engineering Students in India to reward and recognize emerging authors and researchers. This contest is free of cost and participation is completely online. All prizes will be delivered to the participant's home address.
This contest is organized by OpenGenus.
Indian Technical Authorship Contest 2023
Duration
3rd July 2023 to 3rd October (3 months, join anytime as early as possible)
Open to
Engineering students in India 🌏
Results anounced
15 October 2023
Prizes distributed
2 November 2023
Location
Remote contest
Skills needed
Knowledge in any Engineering domain; Writing skills
Ranking criteria
Number of articles written
Join the contest:
[Apply here] 👈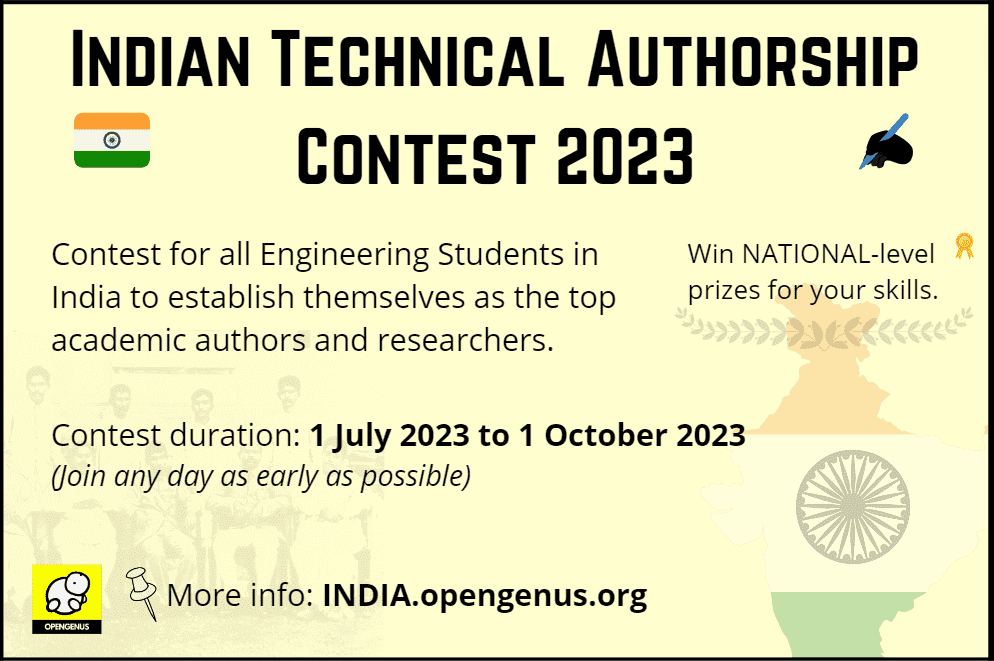 ---
Timeline
The contest starts on 3rd July 2023 and ends on 3rd October 2023.
Article submissions can be made anytime between 3rd July 2023 00:00 AM (midnight) to 3rd October 2023 11:59 PM (midnight). Candidates can apply and join the platform from 15th June 2023 and get familiarized with the platform. Candidates can join anytime between the 3 months.

Bookmark this page (CTRL + D) to stay updated.
Timeline of ITAC 2023
Apply/ Join platform
15th June 2023
Contest starts
3rd July 2023 00:00 AM (midnight)
Leaderboard made public
10th July 2023
Join anytime in between
Contest ends
3rd October 2023 11:59 PM (midnight)
Results announced
15th October 2023
Prizes distributed
2nd November 2023
---
Prizes
Rank is based on the number of articles published.

Following are the prizes in this contest:
Requirement
Prize
2 or more articles

Participation certificate
Free e-book on Algorithms worth INR 500

25 or more articles

Certificate of Excellence
Your profile added to our "Hall of Excellence" 🏆.
Offer to become co-author for an upcoming book published by OpenGenus worldwide.
All the above

Top 20 candidates

An exclusive Paperback book titled "Solve Algorithmic Problems with intuition" which is not available for sale and is only handed down to deserving candidates. (delivered)
All the above

Rank 1

Prize money of INR 50,000 💵
All the above
More prizes to be added.🕑
Note: Top 20 candidates should qualify the excellence level (25+ articles)
---
Participation Rules
Rules for writing technical articles for ITAC 2023
Select the topic for your first article. Make sure this topic has not been covered by searching on Google Search as "topic site:iq.opengenus.org".
Comment on this thread with the topic you want to write on. Be sure to comment a topic that is not yet covered to proceed to step 3.


Our mentor will message you on our forum with the link to join our editor where you need to write your article. Check for new messages on our forum (top right corner).



If you did not get reply within a day, your topic was already covered. Find a better topic and comment again in Step 2.
Write your article on the editor.

This is the guide for writing articles and this is the guide for markdown. Take a look at this published article for the idea of how your article should look like. Once you have access to our editor (after Step 2), you can login directly at iq.opengenus.org/ghost.
Reply back to your mentor with the article title that is ready for review.
Mentor publishes your article.
You move on to your next article.
Once you start publishing articles in OTAC 2023, your author profile will be created and it will unlock further opportunities: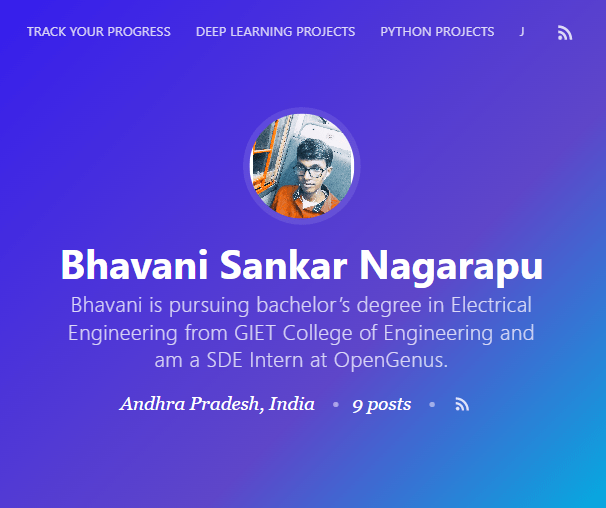 ---
Contest Rules
Rules for writing technical articles for ITAC 2023
Write on any topic of your choice from any Engineering domain like Computer Science, Mechanical Engineering, Electrical Engineering and so on.
Make sure your topic is available (check covered topics by searching on Google Search as "topic site:iq.opengenus.org"
Write everything in your own words only. Only original content is accepted. It should not be published in any other platform.
Minimum word count is recommended to be 500 words.
Do not use any AI tool or extensions like Grammarly while writing your article and do not copy any content or images. Once caught by our automated checks, candidate will be given a warning or disqualified.
You can login to your editor at iq.opengenus.org/ghost (using your credentials after access is granted)
For any doubts, ask your mentor by messaging directly.
Welcome to India's Biggest Technical Writing contest. Best of Luck.

Follow ITAC on LinkedIn.
Follow OpenGenus on LinkedIn, Twitter and GitHub Get our Android App.
Email 📧: team [at] opengenus.org
---
---