Contest Name: Odisha Technical Authorship Contest 2023 (OTAC 2023)
This is a Technical Authorship Contest for Engineering Students in Odisha to reward and recognize emerging authors and researchers. This contest is free of cost and participation is completely online. All prizes will be delivered to the participant's home address.
This contest is organized by OpenGenus.
Update: OTAC 2023 is over. Stay tuned for final results, prize distribution and OTAC 2024 edition.
Contents:
Prize Rules
Contest Rules
Participation Rules
Odisha Technical Authorship Contest 2023
Duration
13 March 2023 to 15 May 2023 (join anytime)
Open to
Engineering students in Odisha
Results anounced
30 May 2023
Prizes distributed
7 June 2023
Location
Remote contest
Skills needed
Knowledge in any Engineering domain; Writing skills
Join the contest (click on request button)
Start with OTAC 2023
Leaderboard (Results announced):
Results - OTAC 2023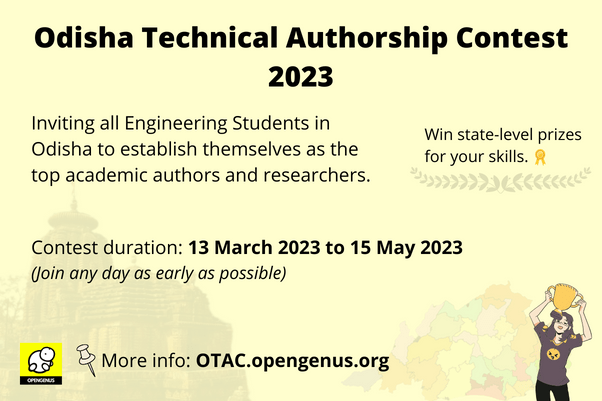 Prize Rules
There are 2 certificate types you will receive:
2 and more articles -> Participation certificate; 1 free e-book on Algorithms worth ~ INR 500.
20 and more articles -> Certificate of Excellence; Qualify for Top 100 list;
Ranking based:
Top 50 -> Receive a Paperback Book on Algorithms worth ~ INR 1000; Opportunity to intern at our Tokyo Office.
1st -> INR 20,000
2nd -> INR 10,000
3rd -> INR 5,000
Basis of ranking/ selection:
Number of articles (20+ to qualify for Top 100 only)
Number of votes received on your articles
Number of likes and shares of your social media posts linking to your articles
Example: If you have written 20 articles, you are qualified for Top 100. Now, one of your article receives the maximum number of total votes (say 25K votes), you will be 1st provided total votes of other participants are less.
The vote button is at the end of each article. One need to click on the heart button to vote. You can ask your friends to vote as well.

Number of articles does not impact your chances to win directly. One can win with just 20 articles or another candidate can win with 100 articles. Total number of votes matter.
Share your articles with your friends to get maximum votes. Tag us on social media (@OpenGenus on Twitter and LinkedIn).
Contest Rules
Duration: 2 months (13 March 2023 to 15 May 2023)
One can join anyday.
Results will be declared on 30 May 2023.
All prizes will be delivered by 7 June 2023.
Public leaderboard will be released 1 week after the start of the contest (21 March 2023). You can track your progress on the leaderboard.
You need to write articles on:
Technical topics related to any Engineering Subject (like Computer Science, Electrical Engineering, Mechanical Engineering)

This can be explanation of a program/ assignment you have written
Explanation to a question in a subject like Compiler Design
Explanation of a concept like Binary Tree
Explanation of a concept in a Programming Language like C, C++, Java, Ruby and so on.
Rules for articles:
All articles should be original. Plagiarism is strictly prohibited.
Images used in the article should be original and have the text "iq.opengenus.org" at a corner.
There is no minimum words requirement for article. It should cover the main points of the topic in hand.
You need to check if the topic you are planning to write is covered or not on our platform by searching on Google Search as: "<topic> site:iq.opengenus.org".

Come up with original topics and write your articles on our editor.

Articles should be written in English. Make sure there is no typo.
Participation Rules:

Step 2: Our maintainers will approve your request and provide you access to our editor (within a few hours).
Check for new messages at the top right corner of the forum (discourse.opengenus.org):

Step 3: This will create a direct messaging thread with our maintainer where you need to inform once your article is ready for review.
Step 4: Your article will be reviewed and published and the leaderboard will display your position.
This is the guide for writing articles and this is the guide for markdown.
Take a look at this published article for the idea of how your article should look like. Once you have access to our editor (after Step 2), you can login directly at iq.opengenus.org/ghost.
Once you start publishing articles in OTAC 2023, your author profile will be created and it will unlock further opportunities: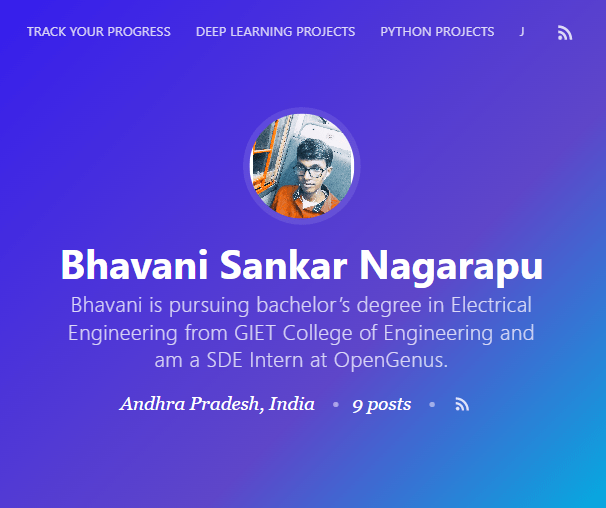 This is a golden opportunity to establish yourself as one of the best academic writers in the state of Odisha.