Get this book -> Problems on Array: For Interviews and Competitive Programming
Despite the vast number of initiatives to bring gender equality to the software development world, there is still a lot of work to be done.
HackerRank published its 2018 Women in Tech Report today, which looks at employment trends for female software developers.
Key findings to note:
In general, women are struggling to advance in their careers, and increasingly languish in junior-level roles
Women developers between 25 and 34 are 1.78 times more likely to occupy junior positions
Over 60 percent of female participants claimed competency in Java, JavaScript and C. Over 40 percent said they knew C++ and Python.
Over 10 percent of women who responded to the survey work in the financial services sector. Around 3.6 percent work in the automotive industry.
The gap between men and women who learn to code under the age of 16 is narrowing.
Problem we need to address: How to ensure that women progress throughout their career?
Problem we have tackled and made some progress: How to bring more women into tech?
To bring more women into tech, there are several initiatives like Girls who code, Rails Girls Summer of Code, Girl Develop it, Ladies Learning Code, Ada Developers Academy and many others.
Participants: HackerRank surveyed 14,616 professional developers for this study. Participants were recruited from the HackerRank community and through social media, and include 1,981 women and 12,635 men.
The findings show women, regardless of age, are more likely to occupy junior-level roles. It also shows that the seniority chasm widens with age, with women over 35 being 3.5 times more likely to occupy a junior position than a man. Shockingly, 20.4% continue to occupy junior roles compared to 5.9% of men in the same age group.
Women developers between 25 and 34 also fare badly, and are 1.78 times more likely to occupy junior positions. 46.1 percent are stuck in junior-level limbo, compared to 25.9 percent of men.
Check out this language knowledge data: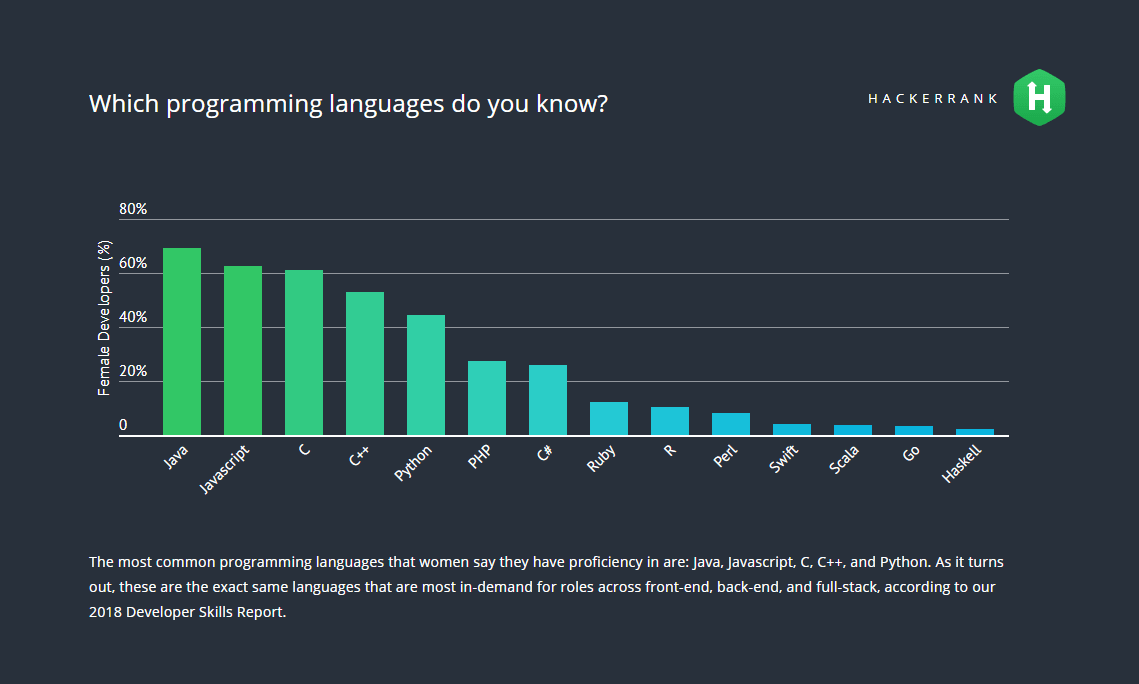 See the industry where female developers work: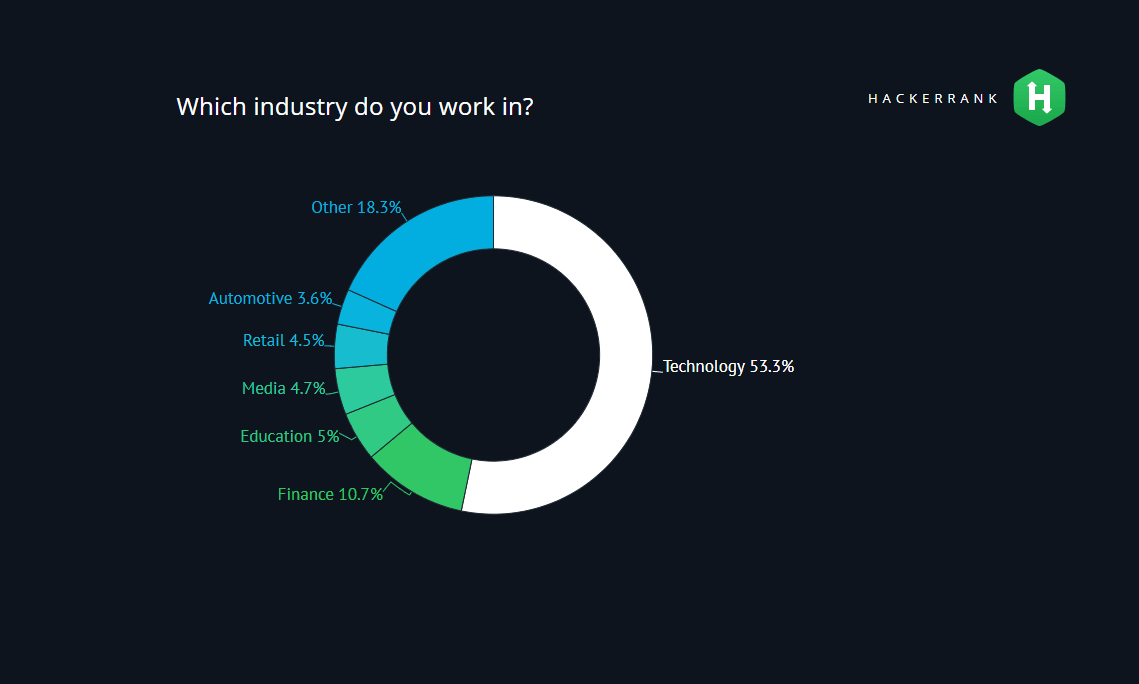 The gap between men and women who learn to code under the age of 16 is narrowing. 13.9 percent of women between the ages of 18 and 24 started coding when they were still in school, compared to 20.9 percent of men in the same age bracket.
See this interesting data: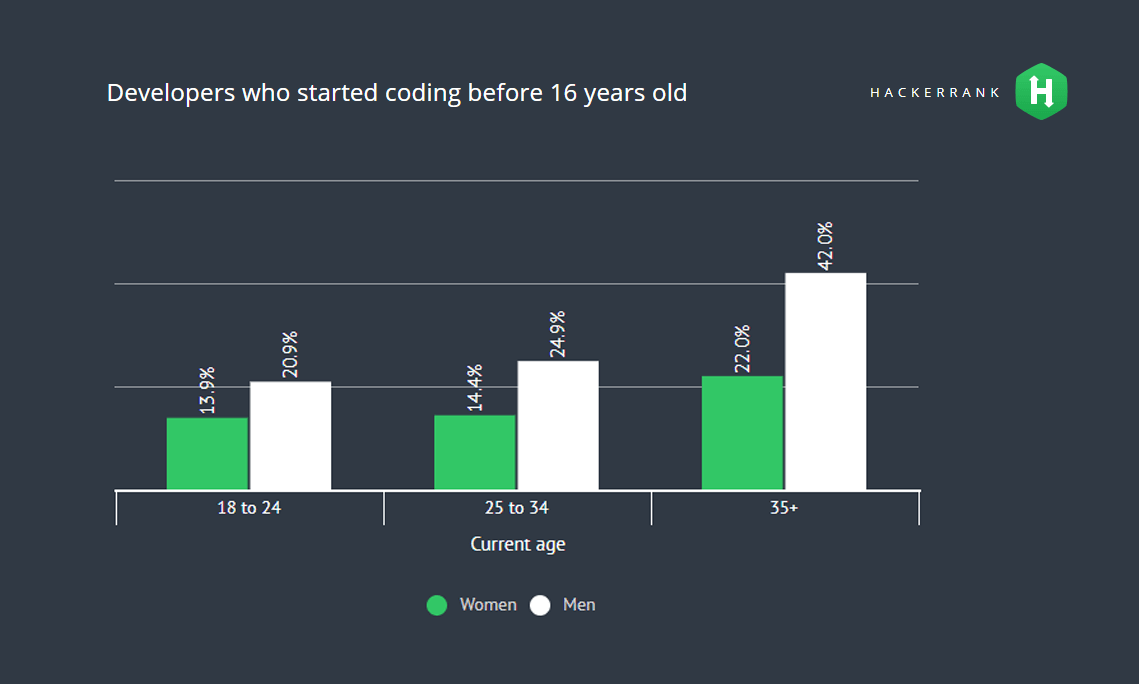 Cathy White, of London-based CEW Communications, attributed the imbalance in senior roles to entrenched gender roles, and said that addressing the seniority gap is an important battle to be fought, especially if we want to ensure women enter the industry at the same rate as men.
Allyson Kapin, who runs the nonprofit Women Who Tech, attributed the numbers of women stuck in junior roles to endemic cultural issues.
A new view to the problem
Much of the effort to address the gender gap in tech has been focused on getting women through the door. OpenGenus is, also, participating at Rails Girls Summer of Code and will contribute to this introductory cause.
This research from HackerRank shows that effort still needs to be made to ensure that women are able to progress in their careers at the same pace as their male counterparts.
The problem we need to address is:
How to ensure that women progress throughout their career?