Get this book -> Problems on Array: For Interviews and Competitive Programming
Algorithm
Complexity
Implementations
Discussions
Reading time: 15 minutes | Coding time: 10 minutes
A B-tree is a tree data structure that keeps data sorted and allows searches, insertions, and deletions in logarithmic amortized time.
Deletion in a B Tree is similar to insertion. At first the node from which a value is to be deleted is searched. If found out, then the value is deleted. After deletion the tree is checked if it still follows B Tree properties.
Algorithm
Basic operations associated with deletion of an element in a B-Tree:



To delete any element from a B-tree, starting at a leaf node, there are 2 steps:

Remove X from the current node. Being a leaf node there are no subtrees to worry about.
Removing X might cause the node containing it to have too few values.
Recall that we require the root to have at least 1 value in it and all other nodes to have at least (M-1)/2 values in them. If the node has too few values, we say it has underflowed.
If underflow does not occur, then we are finished the deletion process. If it does occur, it must be fixed.
The process for fixing a root is slightly different than the process for fixing the other nodes, and will be discussed afterwards.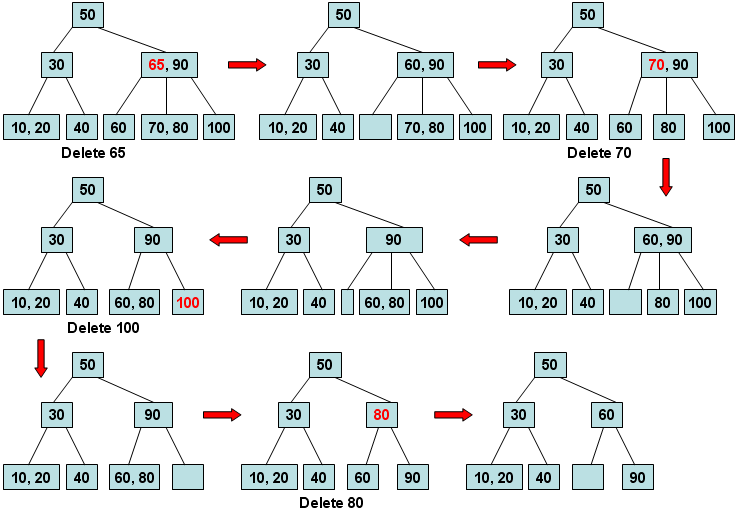 The figure illustrates the steps of deletion of an element from a B-Tree.
Complexity
Worst case deletion time complexity: Θ(logn)

Average case Space complexity: Θ(n)


Worst case Space complexity: Θ(n)
Implementations

#include <iostream.h>
#include <conio.h>
 
using namespace std;
 
#define MAX 4
#define MIN 2
 
struct btreeNode {
    int val[MAX + 1], count;
    btreeNode *link[MAX + 1];
};
 
btreeNode *root;
 
/* creating new node */
btreeNode * createNode(int val, btreeNode *child) {
    btreeNode *newNode = new btreeNode;
    newNode->val[1] = val;
    newNode->count = 1;
    newNode->link[0] = root;
    newNode->link[1] = child;
    return newNode;
}
 
/* Places the value in appropriate position */
void addValToNode(int val, int pos, btreeNode *node, btreeNode *child) {
    int j = node->count;
    while (j > pos) {
        node->val[j + 1] = node->val[j];
        node->link[j + 1] = node->link[j];
        j--;
    }
    node->val[j + 1] = val;
    node->link[j + 1] = child;
    node->count++;
}
 
/* split the node */
void splitNode(int val, int *pval, int pos, btreeNode *node,btreeNode *child, btreeNode **newNode) {
    int median, j;
 
    if (pos > MIN)
        median = MIN + 1;
    else
        median = MIN;
 
    *newNode = new btreeNode;
    j = median + 1;
    while (j <= MAX) {
        (*newNode)->val[j - median] = node->val[j];
        (*newNode)->link[j - median] = node->link[j];
        j++;
    }
    node->count = median;
    (*newNode)->count = MAX - median;
 
    if (pos <= MIN) {
        addValToNode(val, pos, node, child);
    }
    else {
        addValToNode(val, pos - median, *newNode, child);
    }
    *pval = node->val[node->count];
    (*newNode)->link[0] = node->link[node->count];
    node->count--;
}
 
/* sets the value val in the node */
int setValueInNode(int val, int *pval,btreeNode *node, btreeNode **child) {
 
    int pos;
    if (!node) {
        *pval = val;
        *child = NULL;
        return 1;
    }
 
    if (val < node->val[1]) {
        pos = 0;
    }
    else {
        for (pos = node->count;
            (val < node->val[pos] && pos > 1); pos--);
        if (val == node->val[pos]) {
            cout<<"Duplicates not allowed\n";
            return 0;
        }
    }
    if (setValueInNode(val, pval, node->link[pos], child)) {
        if (node->count < MAX) {
            addValToNode(*pval, pos, node, *child);
        }
        else {
            splitNode(*pval, pval, pos, node, *child, child);
            return 1;
        }
    }
    return 0;
}
 
/* insert val in B-Tree */
void insertion(int val) {
    int flag, i;
    btreeNode *child;
 
    flag = setValueInNode(val, &i, root, &child);
    if (flag)
        root = createNode(i, child);
}
 
/* copy successor for the value to be deleted */
void copySuccessor(btreeNode *myNode, int pos) {
    btreeNode *dummy;
    dummy = myNode->link[pos];
 
    for (; dummy->link[0] != NULL;)
        dummy = dummy->link[0];
    myNode->val[pos] = dummy->val[1];
 
}
 
/* removes the value from the given node and rearrange values */
void removeVal(btreeNode *myNode, int pos) {
    int i = pos + 1;
    while (i <= myNode->count) {
        myNode->val[i - 1] = myNode->val[i];
        myNode->link[i - 1] = myNode->link[i];
        i++;
    }
    myNode->count--;
}
 
/* shifts value from parent to right child */
void doRightShift(btreeNode *myNode, int pos) {
    btreeNode *x = myNode->link[pos];
    int j = x->count;
 
    while (j > 0) {
        x->val[j + 1] = x->val[j];
        x->link[j + 1] = x->link[j];
    }
    x->val[1] = myNode->val[pos];
    x->link[1] = x->link[0];
    x->count++;
 
    x = myNode->link[pos - 1];
    myNode->val[pos] = x->val[x->count];
    myNode->link[pos] = x->link[x->count];
    x->count--;
    return;
}
 
/* shifts value from parent to left child */
void doLeftShift(btreeNode *myNode, int pos) {
    int j = 1;
    btreeNode *x = myNode->link[pos - 1];
 
    x->count++;
    x->val[x->count] = myNode->val[pos];
    x->link[x->count] = myNode->link[pos]->link[0];
 
    x = myNode->link[pos];
    myNode->val[pos] = x->val[1];
    x->link[0] = x->link[1];
    x->count--;
 
    while (j <= x->count) {
        x->val[j] = x->val[j + 1];
        x->link[j] = x->link[j + 1];
        j++;
    }
    return;
}
 
/* merge nodes */
void mergeNodes(btreeNode *myNode, int pos) {
    int j = 1;
    btreeNode *x1 = myNode->link[pos], *x2 = myNode->link[pos - 1];
 
    x2->count++;
    x2->val[x2->count] = myNode->val[pos];
    x2->link[x2->count] = myNode->link[0];
 
    while (j <= x1->count) {
        x2->count++;
        x2->val[x2->count] = x1->val[j];
        x2->link[x2->count] = x1->link[j];
        j++;
    }
 
    j = pos;
    while (j < myNode->count) {
        myNode->val[j] = myNode->val[j + 1];
        myNode->link[j] = myNode->link[j + 1];
        j++;
    }
    myNode->count--;
    free(x1);
}
 
/* adjusts the given node */
void adjustNode(btreeNode *myNode, int pos) {
    if (!pos) {
        if (myNode->link[1]->count > MIN) {
            doLeftShift(myNode, 1);
        }
        else {
            mergeNodes(myNode, 1);
        }
    }
    else {
        if (myNode->count != pos) {
            if (myNode->link[pos - 1]->count > MIN) {
                doRightShift(myNode, pos);
            }
            else {
                if (myNode->link[pos + 1]->count > MIN) {
                    doLeftShift(myNode, pos + 1);
                }
                else {
                    mergeNodes(myNode, pos);
                }
            }
        }
        else {
            if (myNode->link[pos - 1]->count > MIN)
                doRightShift(myNode, pos);
            else
                mergeNodes(myNode, pos);
        }
    }
}
 
/* delete val from the node */
int delValFromNode(int val,btreeNode *myNode) {
    int pos, flag = 0;
    if (myNode) {
        if (val < myNode->val[1]) {
            pos = 0;
            flag = 0;
        }
        else {
            for (pos = myNode->count;
                (val < myNode->val[pos] && pos > 1); pos--);
            if (val == myNode->val[pos]) {
                flag = 1;
            }
            else {
                flag = 0;
            }
        }
        if (flag) {
            if (myNode->link[pos - 1]) {
                copySuccessor(myNode, pos);
                flag = delValFromNode(myNode->val[pos], myNode->link[pos]);
                if (flag == 0) {
                    cout<<"Given data is not present in B-Tree\n";
                }
            }
            else {
                removeVal(myNode, pos);
            }
        }
        else {
            flag = delValFromNode(val, myNode->link[pos]);
        }
        if (myNode->link[pos]) {
            if (myNode->link[pos]->count < MIN)
                adjustNode(myNode, pos);
        }
    }
    return flag;
}
 
/* delete val from B-tree */
void deletion(int val,btreeNode *myNode) {
    btreeNode *tmp;
    if (!delValFromNode(val, myNode)) {
        cout<<"Given value is not present in B-Tree\n";
        return;
    }
    else {
        if (myNode->count == 0) {
            tmp = myNode;
            myNode = myNode->link[0];
            free(tmp);
        }
    }
    root = myNode;
    return;
}
 
/* search val in B-Tree */
void searching(int val, int *pos,btreeNode *myNode) {
    if (!myNode) {
        return;
    }
 
    if (val < myNode->val[1]) {
        *pos = 0;
    }
    else {
        for (*pos = myNode->count;
            (val < myNode->val[*pos] && *pos > 1); (*pos)--);
        if (val == myNode->val[*pos]) {
            cout << "Given data is Found\n";
            return;
        }
    }
    searching(val, pos, myNode->link[*pos]);
    return;
}
 
/* B-Tree Traversal */
void traversal(btreeNode *myNode) {
    int i;
    if (myNode) {
        for (i = 0; i < myNode->count; i++) {
            traversal(myNode->link[i]);
            cout << myNode->val[i + 1] << ' ';
        }
        traversal(myNode->link[i]);
    }
}
 
int main() {
    int val, opt;
    while (true) {
        cout<<"1. Insertion\t2. Deletion\n";
        cout<<"3. Searching\t4. Traversal\n";
        cout<<"5. Exit\nEnter your choice: ";
        cin >> opt;
        cout << endl;
        switch (opt) {
        case 1:
            cout<<"Enter your input:";
            cin >> val;
            insertion(val);
            break;
        case 2:
            cout<<"Enter the element to delete:";
            cin >> val;
            deletion(val, root);
            break;
        case 3:
            cout<<"Enter the element to search:";
            cin >> val;
            searching(val, &opt, root);
            break;
        case 4:
            traversal(root);
            break;
        case 5:
            exit(0);
        }
        cout << endl;
    }
 
   // system("pause");
}
}

References/ Further reading