Get this book -> Problems on Array: For Interviews and Competitive Programming
This 13 year old Kid :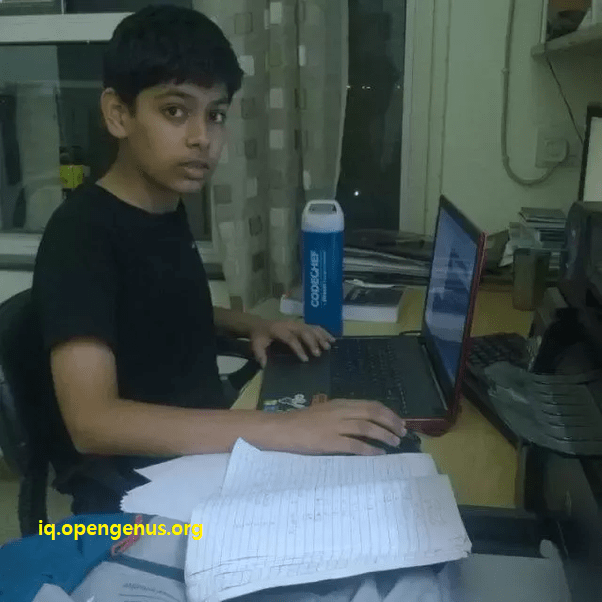 His success is all due to consistency and proper guidance at an early age.
He is an inspiration to all programmers in the World who are in their teens and want to start early and achieve success.
Some of his achievements:
In 2020, he achieved the Silver medal at IOI (International Olympiad in Informatics) and represented India.
Bronze medal at Asia Pacific Informatics Olympiad (APIO) 2020
He happens to become the youngest Red Coder at CodeForces from India. His higgest rating at CodeForces is 2476.
3rd in Google Code-In 2018
5th position at IOITC 2018
He started Competitive Programming at the age of 13 and today, he is 18 years old today and he has already achieved a lot in Competitive Programming through his consistency.
He started his Competitive Coding journey from mid 2016 and has reached the top in India in just 5 years.
He is Udit Sanghi.
He is originally, from Kanpur in India and studies at Bhavan Vidyalaya (High School at Kanpur). He will enter an University in late 2021.
How he started?
In July 2016, he attended an Introductory workshop to competitive programming in IIIT, Delhi. At that time, he participated at IIIT, Delhi's contest named Procon Junior and managed to secure the second position.
He was in Class 6 at the time (2016).
He focused on learning C++ and particing standard problems.
In November 2016, he participated at Zonal Informatics Olympiad (ZIO) and cleared it easily. Zonal Informatics Olympiad (ZIO) is the first round of the Indian Computing Olympiad.
He participated in INOI in January 2017 but failed to clear it.
Next year, in class 9 (2017), he cleared INOI. He achieved the 5th position at IOITC 2018.
He practiced Competitive Coding problems for 3 years continuously and did not focus on anything else. This was from Class 8 to 10.
He started getting demotivated as he was not winning competitions so he started preparing for IMO and Google Code-In. In Google Code-In, he stood 3rd while prizes are given only to top 2.
Soon, he returned back to Competitive Coding and achieved great success this time.
Consistency
Udit Sanghi participates at CodeForces more actively than in other platforms.
As of 2021, he has solved 815 problems.
To put this in prespective, he has solved 800+ problems in 4 years while Tourist (Gennady Korotkevich) has solve 1500+ problems in 10 years.
Class 6 and 7: Learnt standard Algorithms and Data structures
Class 8: Solved all the past year ZCO, INOI problems, and a lot of DP, graph problems on Codeforces
Class 9: Participated in various competitions all year
Class 10: Continued practice but got distracted
Class 11 and 12: Kept focus on Competitive Programming and achieved a lot.
He is, currently, in Class 12 and looks forward to enter an University to continue his Competitive Coding journey.
Guidance from Father
His father is a well renowned Computer Professor which makes sense how he got introduced to Programming at a early age. Guidance is crucial to make early accomplishments.
His father is Dheeraj Sanghi.
Dheeraj Sanghi is the Director at Punjab Engineering College (PEC), Chandigarh as of 2021. His education background includes:
B.Tech at Indian Institute of Technology, Kanpur in 1986
M.S at University of Maryland, College Park in 1989
Ph.D at University of Maryland, College Park in 1993
He was worked as a Programmer at BELL laboratories, Director at LNM Institute of Information Technology, Jaipur (for 2 years), Visiting Researcher at University of Maryland, College Park, MD and Professor at IIT, Kanpur.
Contact
Find Udit Sanghi:
@T1duS on CodeForces
@mathecodician on CodeChef