Does this person look like a Scammer who scammed Rs 27.7 crores?
NO
,but he has been named as one of the three Professors involved in the Coalnet scam (in 2000) and has been accused for over a decade. Recently, IIT, Kharagpur issued a statement that he had no role/ bad intentions in the scam.
Coalnet Scam is the Biggest and earliest Computer Scam that originated from Indian Institute of Technology (IIT). 3 IIT professors where held accountable which included Partha Pratim Chakraborty, one of the Greatest Computer Scientists in India.
The person you saw is: Partha Pratim Chakraborty
Partha is one of the Greatest Computer Scientists in India and have recieved the highest Science award in India for his contributions. He was named in the Coalnet scam in IIT, Kharagpur but has been cleared of all charges/ actions.
Coalnet Scam
In short, Coalnet scam is a Research scam at IIT, Kharagpur from 2001 to 2004 and involved diverting for funds for Research projects to Private Companies for wrong intentions and violating several contract terms.
The total money involved in the scam is Rs 27.7 crores.
In 3rd July 2001, a Company in India named "Coal India Limited (CIL)" awarded Indian Institute of Technology (IIT), Kharagpur with the development, training and design of a software named Coalnet. The cost was 8.9 crores.
Coalnet was intended to be a data sharing system between Indian Ministry, Coalnet and its subsidiaries. It was to be done in 2 phases.
The condition was to keep all information, code and work private and not to involve any third party for the project.
The scam startes when IIT, Kharagpur outsorced the entire work to a company based in USA (founded by an allumnus of the same institute) named TCG Software Private Limited for 5.73 crores in 12th July 2001 (Just 9 days after contract).
The accused where:
Professor Anil K Bhowmick
Professor R N Banerjee
Professor Partha Pratim Chakraborty
The first two professors faced major charges of initiating the scam and breaking contract while the third professor was charged of twisting and hidding facts from CIL (the company).
In 19th January 2004, CIL renewed the contract and started Phase 2 (still not aware of the scam) for 18.8 crores. IIT did the same and gave the work to TCG for 13.12 crores on 21st January 2004.
The scam was exposed and CBI entered the scene and found evidences against the 3 IIT professors. Major penalty was demanded in this case.
As of 2021, no action has been taken against the Professors by IIT or CBI and the three professors continue to enjoy their position and the third professor has been promoted as a Dean as well.
To get more details, see this legal document on Coalnet scam: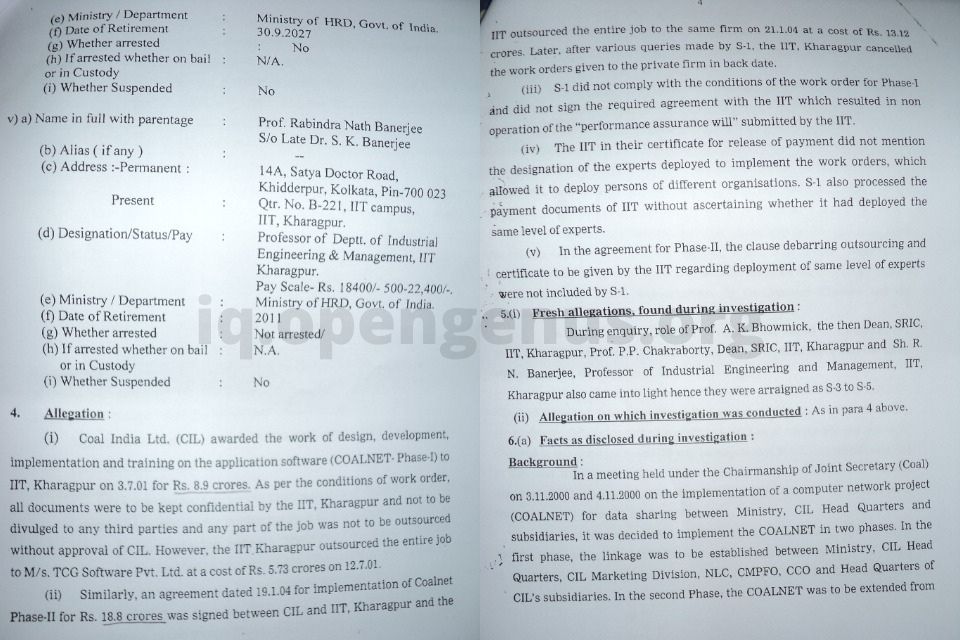 Allegations by CBI
Following are the major allegations put forward by CBI (Central Bureau of Investigation):
Allegation 1: CBI investigation names the accused IIT of having a Tainted Director with wrong intentions in the Coalnet contract

Allegation 2: Who funds IIT to fight a legal case in USA?
A RTI to MHRD responded that it has not given any funds to IIT KGP to fight this particular case.
Who funds IIT in such cases?

Are all research projects in IIT used to divert funds?

Allegation 3: Professor Partha Pratim Chakraborty planted a new Dean at IIT, Kharagpur to cover up all corruption which he had done when he was the Dean.
Conclusion
The issue in this case was that the contract was not followed and money given to IIT was used by Professors to divert funds to Companies associated with IITs to get under the table profit.
Several contract points were violated in the Coalnet scam at IIT, Kharagpur.
No action has been taken and this is not the only research project scam in IIT.
IIT has no role in the scam. It is the people involved in the unique situation where funds for the Institute is diverted to places individuals want.
The professors may be innocent as well. It is your call.
The community must understand that funds within IIT should stay within IIT so that core research in India can be promoted and India finally receives a Nobel prize for a research completely done within India.
Consider this just for knowledge of the current state of research so that you are clever when you enter the Industry. No one was harmed :)